In recent years, Australia has witnessed a significant uptake in the utilisation of commercial drones across a variety of sectors. These devices, equipped with state-of-the-art technology, are transforming traditional operational methods, offering more efficiency and accuracy.
In this guide, we'll navigate the domain of commercial drones in Australia, offering insights into their functionalities, purposes, and the top models being used in the drone industry.
Defining Commercial Drones
Unlike the drones that enthusiasts might fly in their backyard, commercial drones are a different breed altogether. Designed for professional use, these drones are tailored to execute specific tasks with precision. They come with superior battery life, flight time, advanced camera systems, and multispectral sensors, and often have software solutions that cater to industry-specific needs.
In Australia, due to the vast expanse of land and a myriad of industries ranging from mining to agriculture, the role of commercial drones has become increasingly pivotal. Regulatory bodies also enforce a stringent set of public safety guidelines to ensure their safe operation in Australian skies, such as ensuring a visual line of sight between the drone and the operator.
Applications of Commercial Drones in Australia
The use of commercial drones is reshaping the modus operandi of several industries in Australia:
Drone Surveying: Drones have revolutionised the field of surveying, allowing for faster, more efficient, and safer data collection. With aerial perspectives, large areas can be covered in a fraction of the time it would take using traditional methods.
Photogrammetry: This technique uses drones to capture a series of overlapping aerial photos which are then processed to generate 3D models or maps. It's a game-changer in industries like construction, agriculture, and mining, offering detailed, high-resolution insights.
LiDAR: Light Detection and Ranging (LiDAR) uses laser light to measure and map ground surfaces. Mounted on drones, LiDAR systems can penetrate dense vegetation and provide extremely accurate elevation data, essential for sectors like forestry, environmental research, and flood modelling.
Industrial Inspections and Maintenance: Previously, human inspection of large infrastructure components such as bridges, dams, and energy installations was both time-consuming and fraught with danger. Now, drones can capture detailed images and data of these structures, ensuring timely maintenance and safety checks.
Agriculture: The agriculture sector stands to gain immensely from drone technology. With drones, farmers can monitor vast stretches of fields, ascertain the health of crops, detect pests, and optimise irrigation. This level of surveillance ensures higher yields and proactive problem detection.
Environmental and Wildlife Monitoring: The rich and diverse ecosystems of Australia need consistent monitoring, a task made simpler with drones. They can help track animal migrations, monitor endangered species, or even study the health of aquatic ecosystems without causing disruptions.
Stockpile Volume Assessment: Mining and construction sites often have large stockpiles of materials. Drones can swiftly assess these stockpiles, providing volume measurements with incredible accuracy. This ensures that inventory management remains consistent and efficient.
Topographical Surveys: Understanding the lay of the land is crucial in industries ranging from construction to environmental planning. Drones streamline this process, capturing detailed topographical data quickly and with pinpoint accuracy, aiding in project planning and design.
Powerline Assessment: Inspecting power lines is not only laborious but can be risky. Drones, equipped with advanced imaging equipment, can safely monitor power infrastructure, identifying potential vulnerabilities or maintenance needs, ensuring consistent power distribution and reducing outages.
Vegetation Assessment: For sectors like agriculture, forestry, and environmental conservation, understanding vegetation health and growth is paramount. Drones offer a bird's-eye view, using specialised sensors to monitor plant health, and growth rates, and detect potential diseases or pest infestations.
Real Estate and Construction: For real estate agents and builders, drones offer an unprecedented viewpoint. They can capture panoramic shots of properties or provide an eagle-eye view of construction progress.
Emergency and Disaster Response: Whether it's bushfires, floods, or search and rescue operations, drones provide invaluable data quickly, aiding in effective and timely responses.
Mining and Quarry Project Inspections: Drones can capture a wide aerial view of entire mining sites to get detailed maps – as well as learning of impacts to the environment made by the project.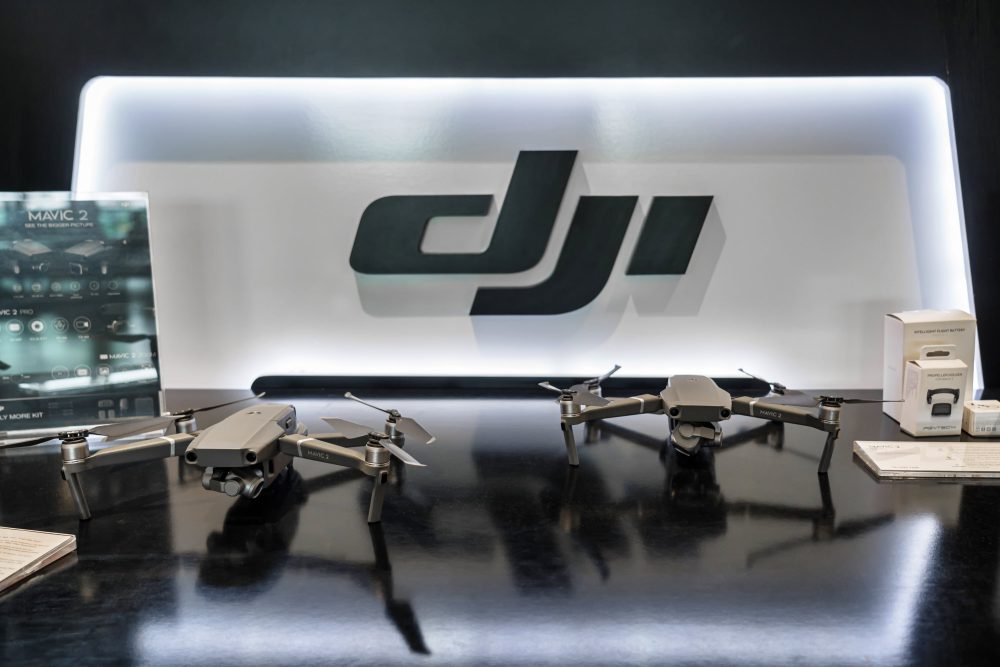 Popular Commercial Drones in Australia
Several drones have gained popularity in the commercial sector in Australia, each with its set of unique features applicable to various industries. Here are a few popular choices:
DJI Matrice
The DJI Matrice range represents a pinnacle in commercial drone technology. Renowned for its versatility, durability, and advanced features, the Matrice series is engineered to serve various industrial applications.
Equipped with powerful cameras and multiple payload capacities, these drones are ideal for tasks such as aerial surveys, inspections, and data collection.
With their extended flight times and robust build, the DJI Matrice drones are not only reliable but also tailored to deliver precision and efficiency, making them a top choice for professionals seeking superior aerial solutions.
Elistair Orion
The Elistair Orion drone stands out as a cutting-edge tethered unmanned aircraft system designed for prolonged aerial surveillance and monitoring missions. Boasting an impressive capability to stay airborne for extended periods, it circumvents the typical battery limitations of traditional drones.
Orion's tethered design ensures a continuous power supply while providing a secure data connection. Optimised for both day and night operations, the Elistair Orion is equipped with advanced camera systems, making it a prime choice for security, defence, and various industrial applications that require consistent and reliable aerial monitoring.
Flyability Elios
The Flyability Elios range of drones represents the pinnacle of innovation for indoor inspection and exploration. Designed specifically for challenging environments, Elios drones boast a unique collision-tolerant design, allowing them to safely navigate confined spaces where traditional drones might falter.
The protective cage design ensures the drone remains unharmed while inspecting intricate industrial settings, from power plants to historical monuments. Equipped with high-quality imaging capabilities, including thermal imaging, Elios drones provide detailed visual data, making them indispensable for safety inspections, maintenance checks, and exploration in complex indoor environments.
The Importance of Quality Assurance in Commercial Drones
When we talk about quality assurance in commercial drones, we're delving into a comprehensive realm that encompasses everything from the robustness of the drone's physical components to the reliability of its software functionalities. In the vast Australian landscapes where drones often operate, weather conditions can be unpredictable, and terrains varied. Thus, the hardware of these drones must be rigorously tested against elements like wind, heat, and moisture.
Software, too, plays a pivotal role. Drones are increasingly becoming more autonomous, relying on intricate algorithms to navigate, avoid obstacles, and accomplish tasks. Ensuring that this software operates without glitches is critical to prevent operational failures or, in worst-case scenarios, accidents.
Moreover, the data captured by these drones, whether visual or analytical, forms the backbone of many business decisions. From assessing the health of crops in agriculture to inspecting infrastructural anomalies, the accuracy and integrity of this data are paramount. Quality assurance procedures make certain that there's no compromise on this front.
In essence, quality assurance for commercial drones is a layered and multifaceted endeavour, one that ensures the technology not only meets but exceeds the expectations and demands of modern Australian industries.
Why AUAV Should Be Your Commercial Drone Partner
Navigating the landscape of commercial drones requires expertise, and that's where AUAV shines. As industry leaders, we offer not just cutting-edge drones but also comprehensive solutions tailor-made for Australian conditions. Our commitment to safety, our deep understanding of the Australian terrains, and our adherence to the strict regulatory guidelines set us apart.
The commercial drone landscape in Australia is burgeoning, offering businesses a fresh perspective and operational efficiency. With their vast potential, it becomes essential for companies to align themselves with trusted partners like AUAV to harness the full spectrum of benefits.
Are you poised to elevate your company operations with commercial drones? Engage with AUAV, Australia's premier name in commercial drone services, and embark on a journey towards operational excellence. Get in touch with us today!