What is a Drone?
A drone is an unmanned aerial vehicle (UAV) or unmanned aircraft system. It is essentially a flying robot this is controlled remotely or can fly autonomously with software-controlled flight plans embedded in its system that work in conjunction with sensors and a global positioning system (GPS). Drones are of different types and sizes and are used for a variety of purposes.
Types of Drones
Here's a rundown of the four main types of drones, their uses, their strengths and weaknesses:
Pros and Cons Table
Drone Type
Pros
Cons
Uses/Price
Multi-Rotor

Accessibility
Ease of use
VTOL and hover flight
Good camera control
Can operate in a confined area

Short flight times
Small payload capacity

Aerial Inspection
Price: $5k-$65k for pro drones

Fixed-Wing

Long endurance
Large area coverage
Fast flight speed

Launch and recovery needs a lot of space
No VTOL/hover
Harder to fly, more training needed
Expensive

Pipeline and power line inspection
Price: $25-$120k for pro drones

Single-Rotor

VTOL and hover flight
Long endurance (with gas power)
Heavier payload capability

More dangerous
Harder to fly, more training needed
Expensive

Fixed-Wing Hybrid

VTOL
Long-endurance flight

Not perfect at either hovering or forward flight
Still in development

Drone Delivery
Price: TBD, in development
1. Multi-Rotor Drones
Multi-rotor drones are the easiest and cheapest option for getting an 'eye in the sky.' They also offer greater control over position and framing, and hence they are perfect for aerial photography and surveillance. They are called multi-rotor because they have more than one motor, more commonly tricopters (3 rotors), quadcopters (4 rotors), hexacopters (6 rotors) and octocopters (8 rotors), among others. By far, quadcopters are the most popular multi-rotor drones.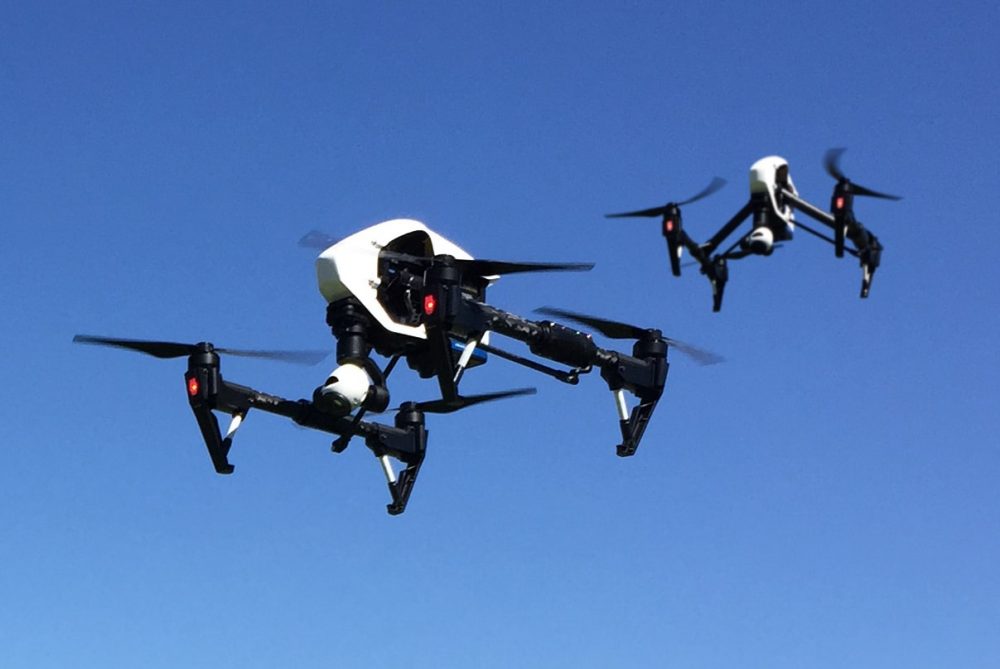 Advantages:
It provides better control of the aircraft during the flight.
Due to its increased manoeuvrability, it can move up and down on the same vertical line, back to front, side to side and rotate in its own axis.
It has the ability to fly much more closely to structures and buildings.
The ability to take multiple payloads per flight increases its operational efficiency and reduces the time taken for inspections.
Disadvantages:
Multi-rotor drones have limited endurance and speed, making them unsuitable for large scale aerial mapping, long-endurance monitoring and long-distance inspection such as pipelines, roads and power lines.
They are fundamentally very inefficient and require a lot of energy just to fight gravity and keep them in the air.
With the current battery technology, they are limited to around 20-30 minutes when carrying a lightweight camera payload. However, heavy-lift multi-rotors are capable of carrying more weight, but in exchange for much shorter flight times.
Due to the need for fast and high-precision throttle changes to keep them stabilised, it isn't practical to use a gas engine to power multi-rotors, so they are restricted to electric motors. So until a new power source comes along, we can only expect very small gains in flight time.
Technical Uses:
Visual inspections
Thermal reports
Photography & Videography
3D scans
2. Fixed-Wing Drones
A fixed-wing drone has one rigid wing that is designed to look and work like an aeroplane, providing the lift rather than vertical lift rotors. Hence, this drone type only needs the energy to move forward and not to hold itself in the air. This makes them energy-efficient.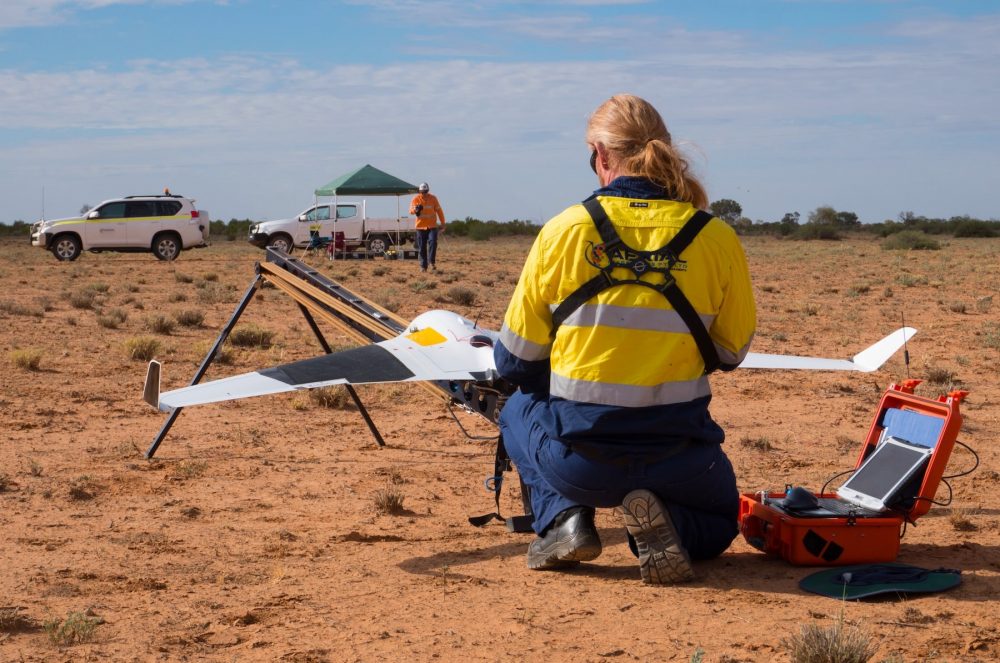 Advantages:
Fixed-wing drones cover longer distances, map much larger areas, and loiter for long times monitoring their point of interest. The average flight time is a couple of hours. But with a greater energy density of fuel (gas engine powered), many fixed-wing UAVs can stay aloft for 16 hours or more.
This drone type can fly at a high altitude, carry more weight and are more forgiving in the air than other drone types.
Disadvantages:
Fixed-wing drones can be expensive.
Training is usually required to fly fixed-wing drones. The first time you launch a fixed-wing drone, you need to be confident in your abilities to control through the flight and back to a soft landing. A fixed-wing drone is always moving forward, and they move a lot quicker than a multi-rotor, and hence you might not get a chance to put it into a hover. In most cases, a launcher is needed to get a fixed-wing drone into the air.
With fixed-wing, the flight is just the beginning. The hundreds and thousands of captured images have to be processed and stitched together into one big tiled image. There is a lot more to be done after this, including performing data analysis, such as the stockpile volume calculations, tree counts, overlaying other data onto the maps, and so on.
Technical Uses:
Aerial Mapping
Drone Surveying – Forestry/Environmental Drone Surveys, Pipeline UAV Surveys, UAV Coastal Surveys
Agriculture
Inspection
Construction
Security
3. Single-Rotor Drones
Single-rotor drone types are strong and durable. They look similar to actual helicopters in structure and design. A single-rotor has just one rotor, which is like one big spinning wing, plus a tail rotor to control direction and stability.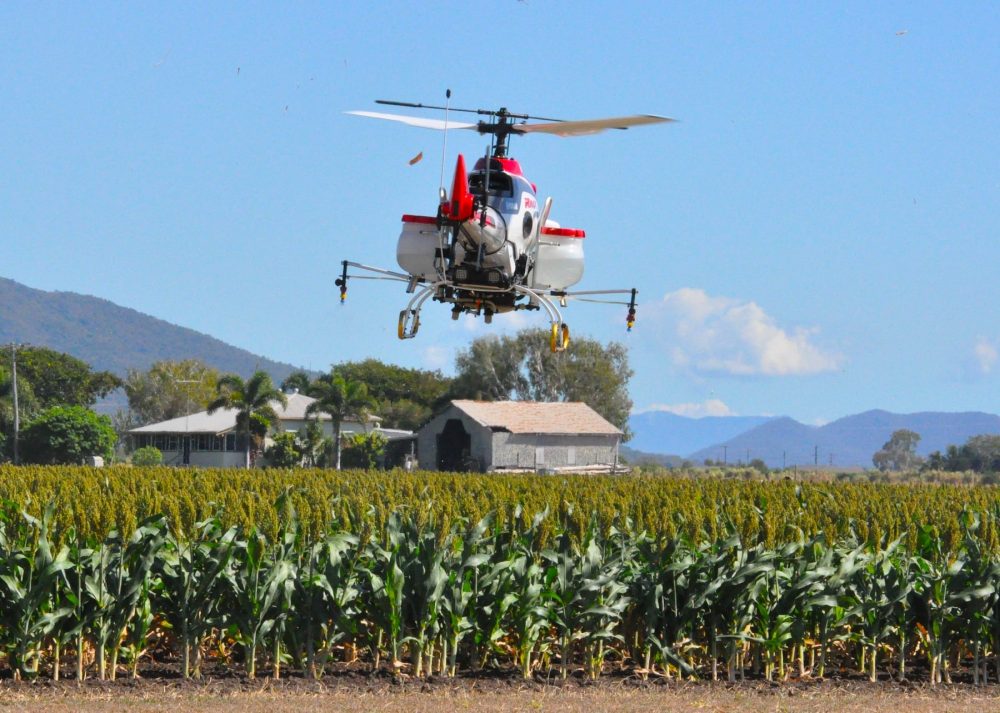 Advantages:
A single-rotor helicopter has the benefit of much greater efficiency over a multi-rotor, which increases if the drone is gas-powered for even longer endurance.
A single-rotor helicopter allows for very long blades, which are more like a spinning wing than a propeller, giving great efficiency.
If you need to hover with a heavy payload (e.g. an aerial LIDAR laser scanner) or have a mixture of hovering with long endurance or fast forward flight, then a single-rotor helicopter is really your best bet.
They are built to be strong and durable.
Disadvantages:
Single-rotor drone types are complex and expensive.
They vibrate and aren't as stable or forgiving in the event of a bad landing.
They also require a lot of maintenance and care due to their mechanical complexity.
The long, heavy spinning blades of a single rotor can be dangerous.
Technical Uses:
Aerial LIDAR laser scan
Drone surveying
Carrying heavy payloads
4. Fixed-Wing Hybrid VTOL
Hybrid VTOL drone types merge the benefits of fixed-wing and rotor-based designs. This drone type has rotors attached to the fixed wings, allowing it to hover and take off and land vertically. This new category of hybrids are only a few on the market, but as technology advances, this option can be much more popular in the coming years. One example of fixed-wing hybrid VTOL is Amazon's Prime Air delivery drone.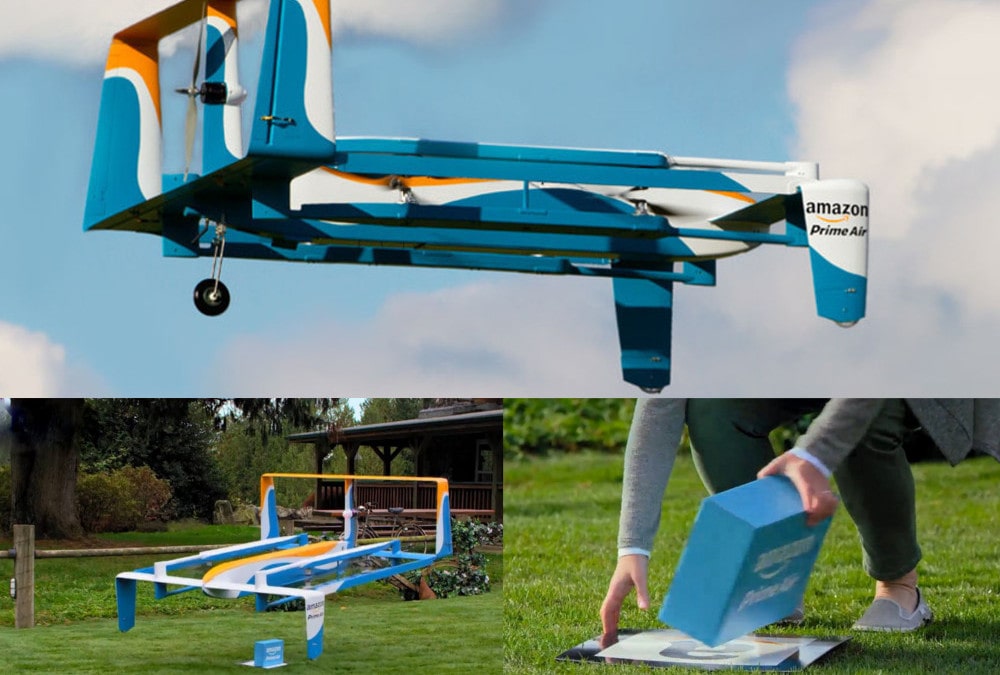 Advantages:
The autopilot can do all the hard work of keeping the drone stable, leaving the human pilot the easier task of guiding it around the sky.
Hybrid VTOL drones offer you the best of both worlds – fixed-wing & rotor-based designs.
They are perfect at either hovering or forward flight.
Disadvantages:
Only a handful of fixed-wing hybrid VTOLs are currently on the market
The technology used in these drone types is still in the nascent stage.
Technical Uses:
Other Significant Drone Types
Some of the popular drone types other than the ones mentioned above include:
Small Drones
These drone types are used for recreational purposes; they cannot perform commercial functions that other drone models carry out. Small drones are too light and lack the stability required for accurately capturing images.
Micro Drones
These are small drones, but they can still provide valuable intelligence because of their micro cameras. The British military commonly uses this drone, and it's called the Black Hornet. Black Hornets can fly up to 25 minutes (single charge) and have a range of up to one mile.
Tactical Drones
These drones are large without being bulky. Equipped with GPS technology and infrared cameras, they measure 4.5 feet and weigh 4.2 lbs. They are often used for surveillance work.
Reconnaissance Drones
These drones measure approximately 16 feet in length, over 2200 pounds, and hover for 52 hours at 35,000 feet. They can be launched from the ground and are known as High Altitude Long Endurance drones (HALE) and Medium Altitude Long Endurance drones (MALE).
Large Combat Drones
These drone types are approximately 36 feet long and are usually used to fire laser-guided bombs or air-to-surface missiles on targets. They have a range of over 1000 miles and can be used for up to 14 hours at a stretch.
Non-Combat Large Drones
Although large, these drones are not for combat. They are more complex than Black Hornet and are used for larger-scaler recon missions.
Target and Decoy Drones
These types of drones are used for monitoring and striking targets. The look of the decoy drone usually depends on the mission.
GPS Drones
This drone type links to satellites via a GPS hookup to map out the rest of their flight, collecting data that can be extracted to make informed decisions.
Photography Drones
Photography drones are outfitted with professional-grade cameras. 4K camera drones can take high-resolution pictures. These drone types make use of automated flight mode and precision stability to take pictures covering vast spaces.
Now that you know the drones types and their pros and cons, you might have got an idea of how and where to use drones in your line of business. If you want to fully exploit the benefits of UAV technology, AUAV can help. Get in touch with us.